This White Paper guides cities and towns through the process of setting policies and writing resolutions for new mobility including shared use mobility and autonomous vehicles.
---
Benefits & Problems Addressed
Getting ahead of technology: Cities can establish early priorities before technology companies arrive to negotiate new services.
Civic engagement on the future: Cities & towns can engage the public early in the process to demystify emerging transportation technology.
Accessible information on complex topics: The White Paper explains autonomous and other technologies in simple terms. The language can be used for many purposes including resolutions, presentations, and talking points.
---
Tips & Techniques
Getting started: Information in the paper can be used in a variety of ways: (1) General background information; (2) information for the public and stakeholders; (3) language for formal resolutions; and (4) language for policy, for example to update Comprehensive & Transportation Plans.
Audiences: (1) Elected officials to use with constituents & stakeholders; (2) City or County Managers to direct action across Departments; (3) Local and regional governments for transportation technology policy updates; (4) Transportation, health, and transit advocacy groups for shaping public comments and positions.
Understanding risks & benefits: The Paper includes a summary of common risks and benefits associated with autonomous technology.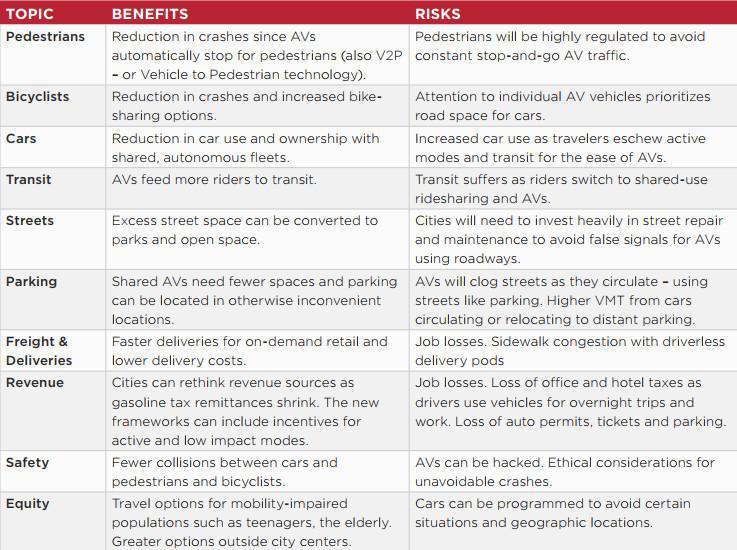 Governing Changes on the Horizon: The paper addresses technology disruption with data, revenue, privacy/security, community design, parking, street design, and public acceptance.
Local context: The paper lists suggestions for communities that are at various stages of adopting transportation technology: (1) getting started; (2) attracting or hosting tests and pilot program; and (3) getting ahead of technology to minimize risks.
Sample language: The paper's Appendix lists sample language communities can adopt or adapt.
---
Resources
Autonomous Vehicles in Beverly Hills - Beverly Hills, California US