Crowdresourcing (or crowdsourcing)uses small community contributions of money, time and goods for civic improvements. The term crowdsourcing also used.
---
Benefits and Problems Addressed
Community investment in local projects: Crowdresourcing requires local "skin in the game" to ensure deep and broad support for the design, installation and maintenance of improvements in (mostly) public rights of way. Gaining support has side benefit of connecting people in neighborhoods.
Variety of improvements: The most popular improvements include community gardens & landscaping, transit stop improvements and events. By opening the process, other ideas arise such as public arts, mobile amenities and classes.
---
Tips & Techniques
Resource raising platform: Several sites (Kickstarter, IOBY) sponsor campaigns for communities. Austin TX US created the "Neighborhood Partnering" program shares expenses, resources, materials and labor with neighborhoods seeking improvements.
Choosing projects: In most cases, groups are working with the city/town to choose improvements and locations. Prioritize improvements with the city and get necessary permits.
Building a Campaign: Get a crowdsourcing campaign plan ready.
Hot Buttons: Be prepared with a Plan B if funding goals unmet. Community members may resist controbuting to campaigns on stance of "I already pay taxes." Programs may favor neighborhoods that are already active & mobilized for opportunities.
---
Resources
Kickstarter
ioby(In Our Backyard); Citizinvestor
Neighborhood Partnering Program (NPP) - Austin TX US
Image: Geoff Peters, Flickr
---
Examples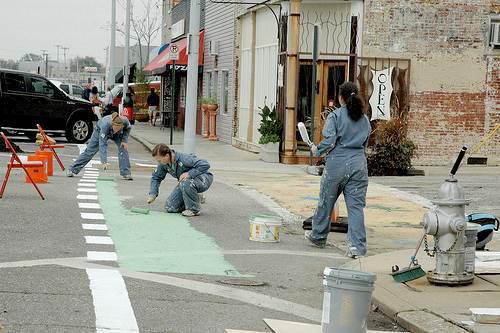 The Hampline: Crowd resourcing protected bike lanes - IOBY