Getting your community in front of the future
Nisenson Consulting LLC offers planning services to harness unfolding opportunities with technology & innovative design across all sectors. Nisenson Consulting operates GreaterPlaces, named a "Top 10" urban planning resource by Planetizen in 2016.
---
Client Segments & Services
Public Sector Clients: Various Departments within local governments and Metropolitan Planning Organizations, Various agencies within state and federal governments.
Private Sector Clients: Sub-contractor to planning & engineering firms on projects. Workshops for private sector planning, engineering, architecture and other consulting firms
Non-Profit Clients: Consultant for technical assistance, workshops for strategic planning and training
Workshops: Half and full day workshops
Training: 2-5 hour training sessions on planning for transportation & smart city technology
Roadmaps: 1 & 2-day sessions to develop actionable next steps
Plan & Code Audits & Alignment
Plan Updates: Provide recommendations and updated language for a range of plans (Comprehensive, Sector, Small Area, Long Range Transportation)
Public Engagement: Meetings, Charrettes, Scenario Planning, Innovative outreach
---
Company Details
Located in Arlington Virginia
Certified Woman-owned business (national through NWBOC)
Member of American Planning Association Smart City workgroup
---
Contact
Lisa Nisenson
---
Portfolio
Preparing for New Mobility: Writing Effective Resolutions - Alta Planning + Design, author
Uber's New Wave of Urban Design. Are Cities Ready? - Mobility Lab, author
Cards for Urbanity - Congress for the New Urbanism Public Square
---
Brochure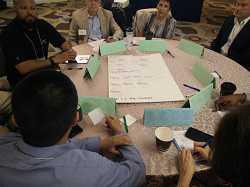 Case Study
Case Study: Scenario Planning Workshops for Planners: Nisenson Consulting LLC develops scenario planning workshops to help participants understand the status of smart city technology, create possible and probable scenarios, and identify next steps for their own organizations.
---